Ne-am fi așteptat ca după 1989 să i se ridice Doinei Cornea o statuie a recunoștinței noastre, una care să apere puținele legende ale rezistenței şi bruma de demnitate dobândită prin numele celor câțiva care, în singurătatea curajului lor, au îndulcit batjocura şi umilinţa la care ne condamnase regimul lui Ceaușescu. Și totuși, nu Doinei Cornea i-am pus flori zilnic în poarta casei ei, unde fuse­se bătută de oamenii Secu­rităţii. Nici nu ne-am dus să-i cerem iertare pentru tăcerea noastră de-atunci şi pentru singurătatea ei, şi nici să-i mulţumim pentru graţia cu care ar fi fost gata să se des­partă de viaţă pentru a spăla ruşinea noastră, a celor dispuşi să îndure la nesfârşit şi orice. Între timp, i-am ridicat o statuie lui Adrian Păunescu și am omagiat apoi patriotismul de ticluitor de asasinate al generalului de Securitate Iulian Vlad.
Am văzut pentru prima oară chipul Doinei Cornea după 1990 în stop-cadrul care încheia o peliculă filmată clandestin în România anului 1988. Proiectat pe ecranele televiziunilor europene, chipul acela, răscolitor de senin, ne-a adus în conştiinţa Europei ca pe o emblemă a spiritului capabil să conteste Răul cu prețul vieții. Poate că în faţa acestui chip şi a acestei priviri Europa începea să se simtă stin­gheră când venea vorba despre România. Confruntată cu această privire a ajuns, poate, să-și măsoare dimensiunea indi­ferenţei vinovate și să-și aducă aminte de această parte a lumii.
Cum ne-am purtat noi cu Doina Cornea după 1990? I-am lăsat pe urmașii Securității, reveniți la putere după o scurtă sincopă a Istoriei, să-i inventeze copii din flori, să-i adauge în paranteză numele de Iuhasz (ca şi cum un nume maghiar ar fi o infamie), să o tragă aici, jos, între noi, cu spe­ranţa că astfel vor putea șterge diferența și o vor reduce la numitorul comun al precauțiilor colective.
Cultul eroilor nu-l au decât oamenii unui popor care pot recunoaşte ca superior ceea ce le este cu-adevăr superior. Noi ne acceptăm eroii abia atunci când şi-au luat locul într-un trecut care nu ne obligă. Cât sunt vii, preferăm să le împrumutăm urâţenia noastră decât să imităm frumuseţea lor. Astăzi, pe scena țării, se agită tot soiul de aproximații umane care ne obligă să ne privim în oglinda incompetenței și ignominiilor lor.
Doina Cornea, în schimb, n-a mai existat pentru noi de peste două decenii. N-a devenit un model, așa cum s-ar fi cuvenit. Nu i s-a mai cerut părerea, pentru a acompania cu rectitudinea spiritului ei toate strâmbătățile care puneau stăpânire pe noi. Celor care fac opinia publică în țara asta ar fi trebuit să le fie rușine că au uitat-o în tot acest răstimp și că-și amintesc de ea abia când nu mai e printre noi. Nu credeți că măcar acum, într-o ultimă tresărire recuperativă, ar trebui să cerem puterii actuale (care n-are, desigur, nici un motiv să o iubească sau să o respecte) să-i facă funeralii naționale? Această ţară, pe care Doina Cornea a iubit-o mai mult decât şi-a iubit fiecare pielea lui, îi dă astăzi onorul, pregătindu-se s-o uite încă o dată, definitiv.
+++
Romanian Anticommunist Dissident Doina Cornea Dies At 88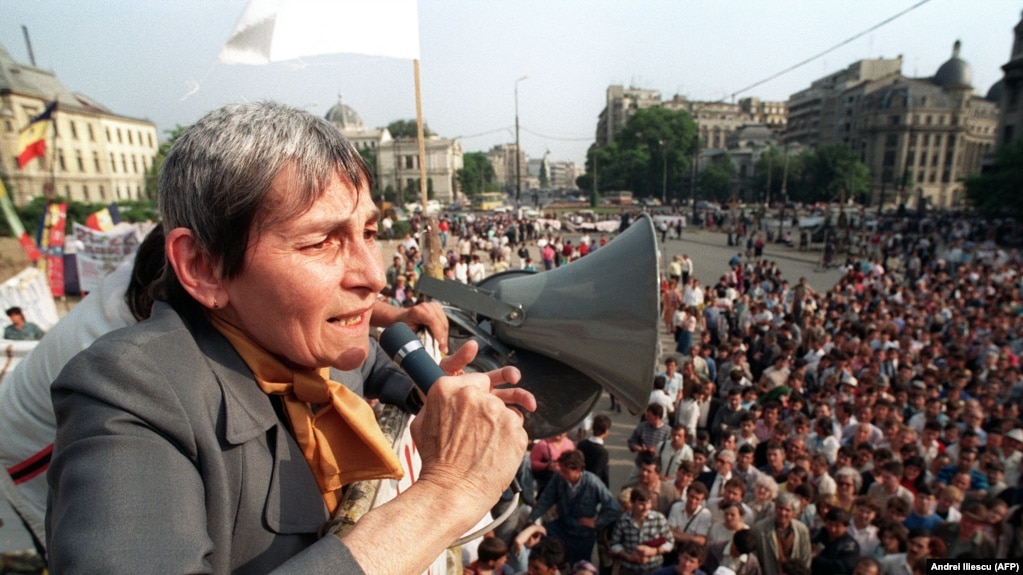 Cornea's son, Leontin Iuhasz, said she died on May 4 in Romania's northwestern city of Cluj after a long illness.
An academic who taught French at a university in Cluj, Cornea came to international prominence in 1982 after she began sending letters to RFE/RL in which she criticized the large-scale destruction of Romanian villages and churches.
She also attracted the attention of Ceausescu's feared political police, the Securitate, who beat and arrested her repeatedly before she was eventually fired from her university in 1983.
Cornea was arrested again in November 1987, along with her son, after distributing leaflets in support of a workers' revolt in the central city of Brasov. She was later placed under permanent house arrest.
After being freed during the December 1989 revolt which toppled Ceausescu, Cornea was co-opted for a short time in the first postcommunist caretaker government — the National Salvation Front (FSN).
Cornea left the FSN weeks later in protest at its announcement that it would turn into a political party and run in the first postcommunist election — contrary to the FSN's initial pledge that it would dissolve after organizing the poll.
The leader of the FSN, former high-ranking Communist Party official Ion Iliescu, went on to become president in 1990 and was reelected twice after.
President Klaus Iohannis called Cornea a "symbol of courage and anticommunist resistance."
Cornea received several awards, including one from Pope John Paul II in 2003, and the French Legion of Honor for civil merits.
Written by Eugen Tomiuc with additional reporting by hotnews.ro, realitatea.net, digi24hd, AP, and AFP
---
---
Categories: Articole de interes general