Russian troops are planning multiple entrance points into Kyiv.
ByMorgan Winsor,Libby Cathey,Meredith Deliso,Nadine El-Bawab,Emily Shapiro,Julia Jacobo,Ivan Pereira,Mark Osborne, andCelia Darrough
Last Updated: February 25, 2022, 4:43 PM ET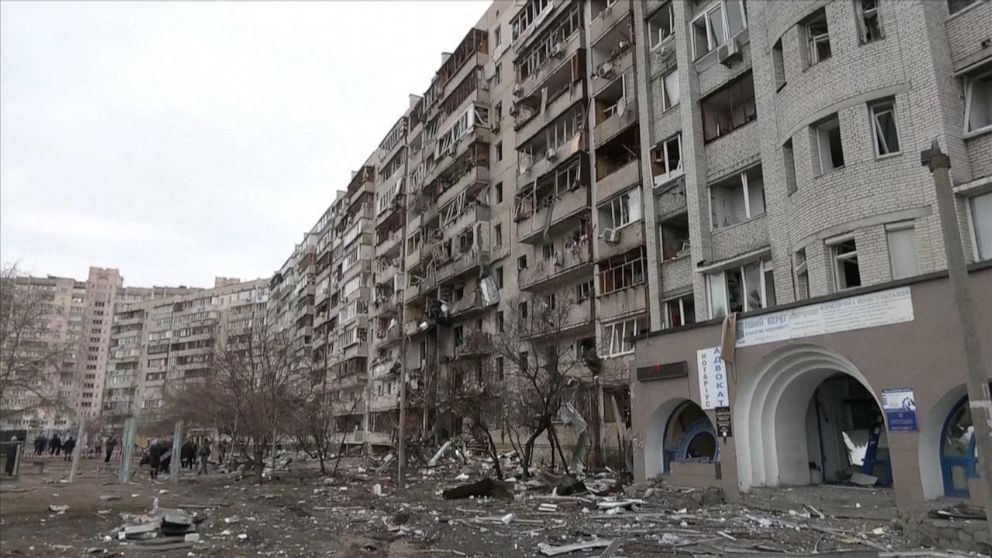 4:19
about:blank
Fighting erupts across Ukraine as Putin's military invades
Ukraine President Volodymyr Zelenskyy gave an urgent address to his country as Russia…Read More
Russia's military launched a long-feared invasion of Ukraine early Thursday, attacking its ex-Soviet neighbor from multiple directions despite warnings of dire consequences from the United States and the international community.
Thursday's attacks followed weeks of escalating tensions in the region. In a fiery, hourlong speech on Monday, Russian President Vladimir Putin announced he was recognizing the independence of two Russia-backed separatist areas in eastern Ukraine's Donbas region: the self-proclaimed People's Republics of Donetsk and Luhansk.
Russia has blamed Ukraine for stoking the crisis and reiterated its demands to NATO that Ukraine pledges to never join the transatlantic defense alliance.
Latest headlines:
Here's how the news is developing. All times Eastern.
---
Russians not making as much progress as they hoped: Pentagon
Pentagon spokesman John Kirby said Friday that Russian troops aren't making as much progress in Ukraine as they hoped, and in some cases, Ukrainian forces are successfully fighting back.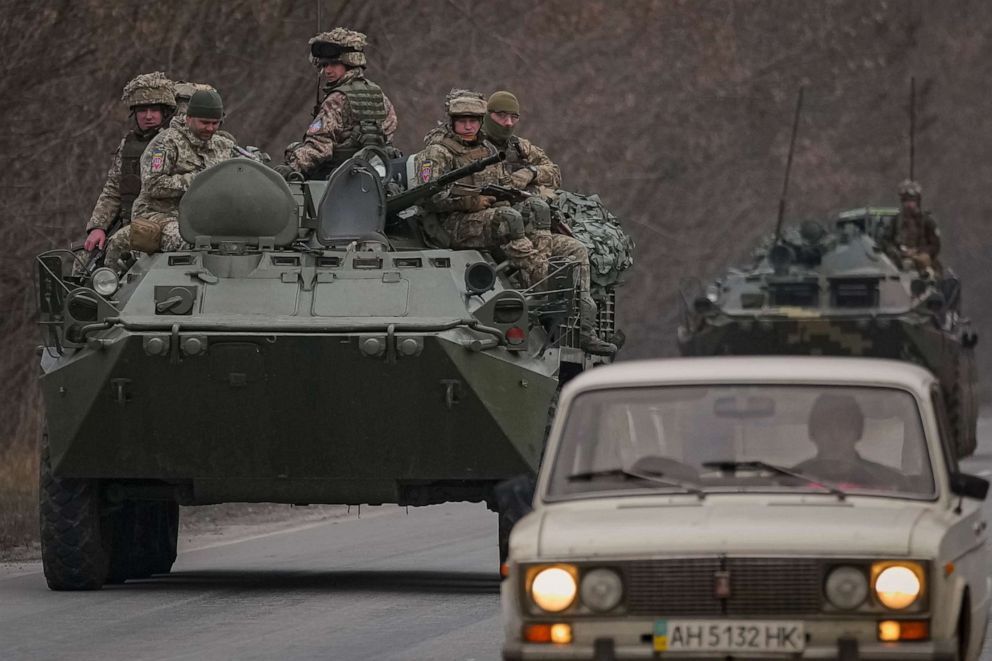 However, "we have seen continued movement by Russian forces into Ukraine both from the north and from the south," Kirby said, and the amphibious assault on Mariupol in eastern Ukraine "is being conducted today."
Kirby stressed that the U.S. and other countries will continue providing defensive support to Ukraine.
-ABC News' Luis Martinez
---
Ukraine Railway Company adds evacuation trains from Kyiv to western cities
The Ukraine Railway Company said it's adding a number of evacuation trains running from Kyiv to cities in western Ukraine.
The company said the trains can hold about 10,000 people per day.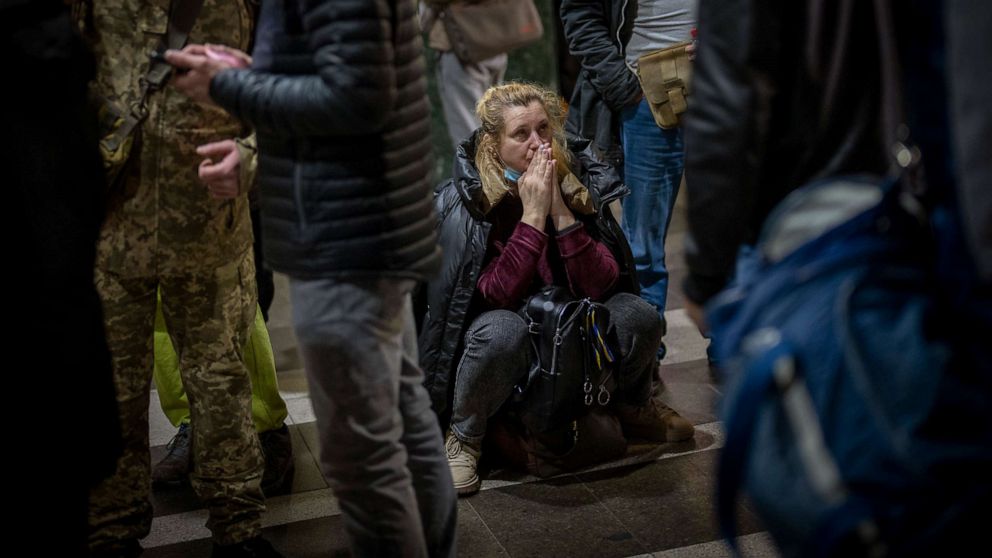 -ABC News' Christine Theodorou
---
US to sanction Putin, Lavrov
The U.S. will join the European Union in sanctioning Russian President Vladimir Putin, Russian Foreign Minister Sergey Lavrov and members of the Russian national security team, White House press secretary Jen Psaki said Friday.
https://platform.twitter.com/embed/Tweet.html?dnt=false&embedId=twitter-widget-2&features=eyJ0ZndfZXhwZXJpbWVudHNfY29va2llX2V4cGlyYXRpb24iOnsiYnVja2V0IjoxMjA5NjAwLCJ2ZXJzaW9uIjpudWxsfSwidGZ3X2hvcml6b25fdHdlZXRfZW1iZWRfOTU1NSI6eyJidWNrZXQiOiJodGUiLCJ2ZXJzaW9uIjpudWxsfSwidGZ3X3NwYWNlX2NhcmQiOnsiYnVja2V0Ijoib2ZmIiwidmVyc2lvbiI6bnVsbH0sInRmd19za2VsZXRvbl9sb2FkaW5nXzEzMzk4Ijp7ImJ1Y2tldCI6ImN0YSIsInZlcnNpb24iOjN9fQ%3D%3D&frame=false&hideCard=false&hideThread=false&id=1497312041815658503&lang=en&origin=https%3A%2F%2Fabcnews.go.com%2FPolitics%2Flive-updates%2Frussia-ukraine%2F%3Fid%3D82467772&sessionId=8e7eb1d3c3ce36f29ae5d06defde70ab66274cc0&theme=light&widgetsVersion=2582c61%3A1645036219416&width=550px

Sanctions on Putin and Lavrov were announced earlier Friday by the EU and the United Kingdom.
Biden will hold a meeting with his national security team on Saturday, Psaki said.
---
---
Biden 'commended the brave actions of the Ukrainian people' during call with Zelensky
President Joe Biden said during his Friday phone call with Ukrainian President Volodymyr Zelenskyy that he "commended the brave actions of the Ukrainian people" who are defending their country against the Russian military.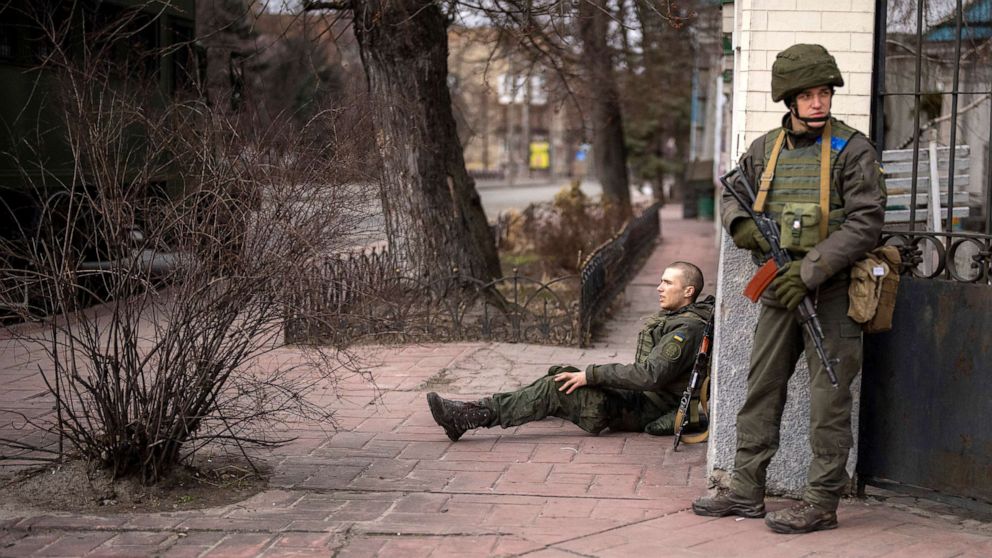 On the call Biden said he "also conveyed ongoing economic, humanitarian, and security support being provided by the United States as well as our continued efforts to rally other countries to provide similar assistance."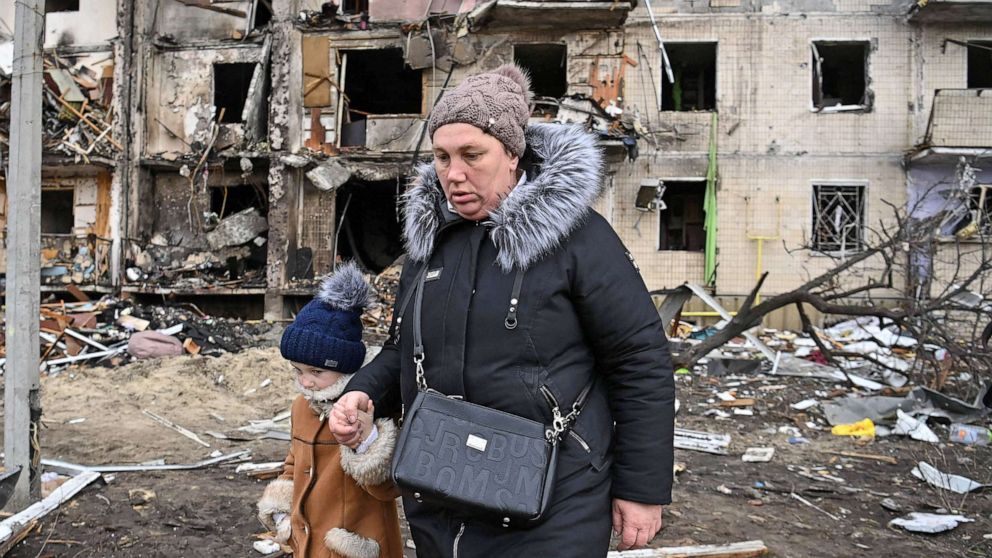 Biden, who met with NATO leaders earlier in the day, said in a statement, "Putin has failed in his goal of dividing the West. NATO is as united and resolute as it's ever been, and NATO will maintain its Open Door to those European states who share our values and who one day may seek to join our Alliance."
"I have ordered the deployment of additional forces to augment our capabilities in Europe to support our NATO Allies," Biden said. "And I strongly welcome the decision to activate NATO's defensive plans and elements of the NATO Response Force to strengthen our collective posture, as well as the commitments by our Allies to deploy additional land and air forces to the eastern flank and maritime forces from the High North to the Mediterranean."
---
---
---
Categories: Articole de interes general